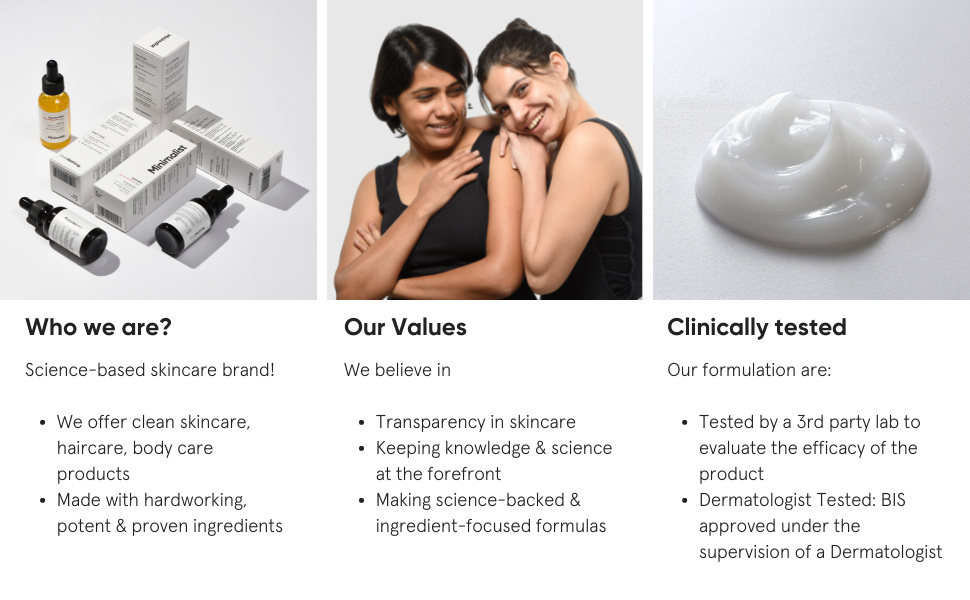 Description
What It Is
Minimalist Anti-Pigmentation Actives 08% Face Cream is a daily care face cream which acts on the causes of pigmentation.

What It Does
Minimalist Anti-Pigmentation Actives 08% Face Cream reduces dark spots and blemishes through a combination of 5 powerful ingredients in high concentration of 8%. A very powerful combination of 7 ingredients proven to fade hyperpigmentation, dark spots & acne marks. Our most potent anti-pigmentation product, meant for stubborn marks & spots. Alpha-Lipoic Acid (ALA) is a powerful antioxidant and rapidly penetrates the stratum corneum. It protects skin cell & regenerates other antioxidants, such as vitamin E and vitamin C in the skin, making skin look more healthy, bright and smooth. Boosted with Alpha Arbutin (9 times more effective than Beta Arbutin) that ensures even tone in 5 weeks. Formulated with Tranexamic Acid, Niacinamide & Hydroxyphenoxy Propionic Acid (HPA) to significantly boost the performance. Butylresorcinol can strongly inhibit the activity of tyrosinase, resulting in reduction of hyperpigmentation & age spots. Found to have 20 times more potent inhibitory activity than Kojic Acid in a clinical study.

Shelf Life
We ensure that this product will have a shelf life of 6 months or more at the time of shipping of your order.

Country Of Origin
India

Manufactured & Packed By:
Uprising Science Pvt Ltd, 21, Aarna 2 tower, Kartarpura Industrial Area, Jaipur - 302006 (Rajasthan)